TILLIG Modellbahnen GmbH
Promenade 1
01855 Sebnitz
Tel.: +49 (0) 3 59 71/903-0
Fax: +49 (0) 3 59 71/903-19
E-Mail: info@tillig.com
79004
« back to searchresults
Art-Nr. 79004 | Railbus with trailer car DR -sold out-

Railbus VT 2.09 with trailer car VB 2.07 of the DR
- with panorama windows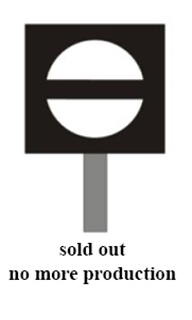 From the end of the 2nd World War till 1970
Construction and modernisation of the railways in the Federal Republic of Germany and the German Democratic Republic independently from one another. Phase of structural change through the expansion of the diesel and electric train operations and gradual decrease in the number of steam trains running. Development of a modern fleet of rolling and new safety technology.

3-front-light on the frontside/2-front-light on the backside, dependet on the direction of traffic

AC-wheel set (Norm NEM 340

Own Coupling pick-up and close coupling kinematics

Equipped with interior decoration

Equipped with interior lighting

Electrical interface (NEM 651) with plug

Nominal size H0, scale 1:87, gauge 16,5 mm
not suited for children under 14 years

Length from buffer to buffer: 312 mm

460g product weight including packaging

When this product comes to the end of its useful life, you may not dispose of it in the ordinary domestic waste but must take it to your local collection point for recycling electrical and electronic equipment. If you dont`t know the location of your nearest disposal centre please ask your retailer or the local council office.