Museum and Gallery
TILLIG Modellbahnen GmbH
Promenade 1
01855 Sebnitz
Tel.: +49 (0) 3 59 71/903-0
Fax: +49 (0) 3 59 71/903-19
E-Mail: info@tillig.com
Museum and Gallery
Museum und Gallery
Dear model railway friends,
In accordance with the current Corona regulations, a visit to our model railway gallery (museum and shop) is now possible without 3G proof. The "mask requirement" has also been eliminated.
In view of the still very high number of infections, we still recommend that you wear medical mouth and nose protection.
We also thank you for your understanding that if you have your own COVID19/cold symptoms, out of consideration for other customers, you should only plan a visit to our gallery after the symptoms have subsided.
Our regular opening times apply (see below).
Club members receive a 10% discount on our shop prices, with the exception of club and gallery models and special offers.
We are looking forward to your visit!
Your team at the Modellbahn-Galerie
Museum und Gallery
Dear model railway enthusiasts,
visit us at our Modellbahn-Galerie!
- Factory museum with current models, exhibition sets and model railways while focusing on the TT gauge
- Personal consulting and the sale of spare parts by our customer service team
- Personal support of our TT club members and the sale of club models
- Sale of TILLIG products (TT, H0 and the H0m/H0e narrow gauge railways and tramway tracks)
-Interesting special offers (individual parts, remaining stock items, items with small errors etc.)
- Sale of the accessories of various manufacturers: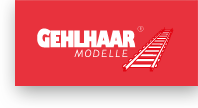 and "Ritter von Krauthauser" or "RK-Modellbau"
A look into the salesroom: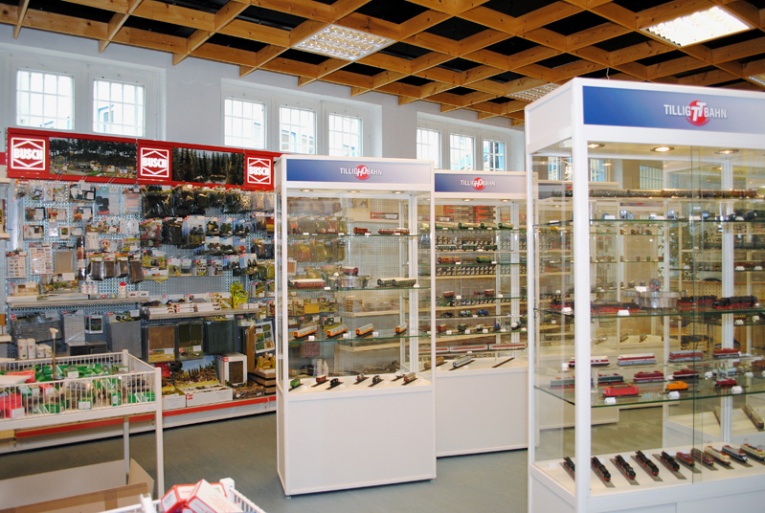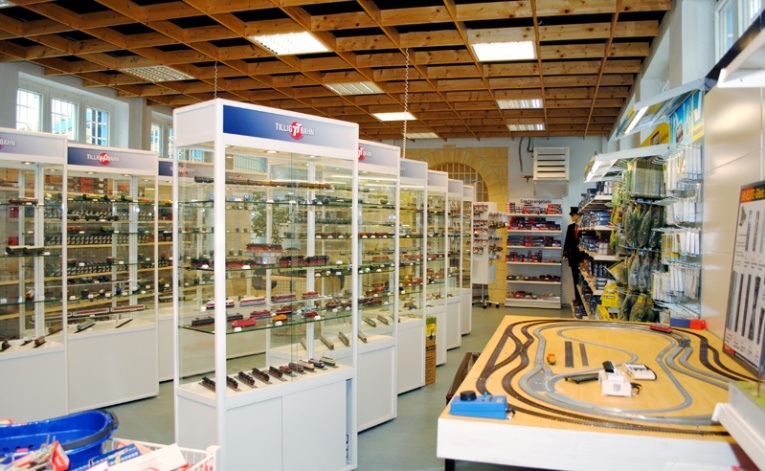 1:00 pm until 4:00 pm
Opening hours:

The Modellbahn-Galerie remains closed on the following days:

Monday to Friday
10:00 am until 5:00 pm
01. January, Good Friday, Easter Monday,
Saturday
10:00 am until 4:00 pm
May 1st, Whit Monday, Ascension Day
Sunday (November, December)
1:00 pm until 4:00 pm
24.12 until 26.12 and 31.12.
National holidays (October 3rd, Reformation Day,
Day of Prayer and Repentance)
1:00 pm until 4:00 pm
Sunday (January until October)
Entrance prices for the factory museum:

Adults
3,00 Euro
Children under the age of 4
free
Children over the age of 4
2,00 Euro
Family ticket (2 adults + up to 4 children)

8,00 Euro

Members of the TILLIG-TT CLUB

free

Groups and school classes (above 15 persons)
per person
Adults
2,00 Euro
Children over the age of 4
1,00 Euro
Cash and card payment (EC/credit card) is possible in our model railway gallery.
We look forward to your visit and wish you a pleasant stay in our Modellbahn-Galerie!
Modellbahn-Galerie
Lange Straße 58-60
01855 Sebnitz
Tel.: +49 (0) 3 59 71/90 3-27
Fax: +49 (0) 3 59 71/90 3-19
E-Mail: galerie@tillig.com
Internet: www.tillig.com