TILLIG Modellbahnen GmbH
Promenade 1
01855 Sebnitz
Tel.: +49 (0) 3 59 71/903-0
Fax: +49 (0) 3 59 71/903-19
E-Mail: info@tillig.com
08131
« back to searchresults
Art-Nr. 08131 | TILLIG-Controller TFi2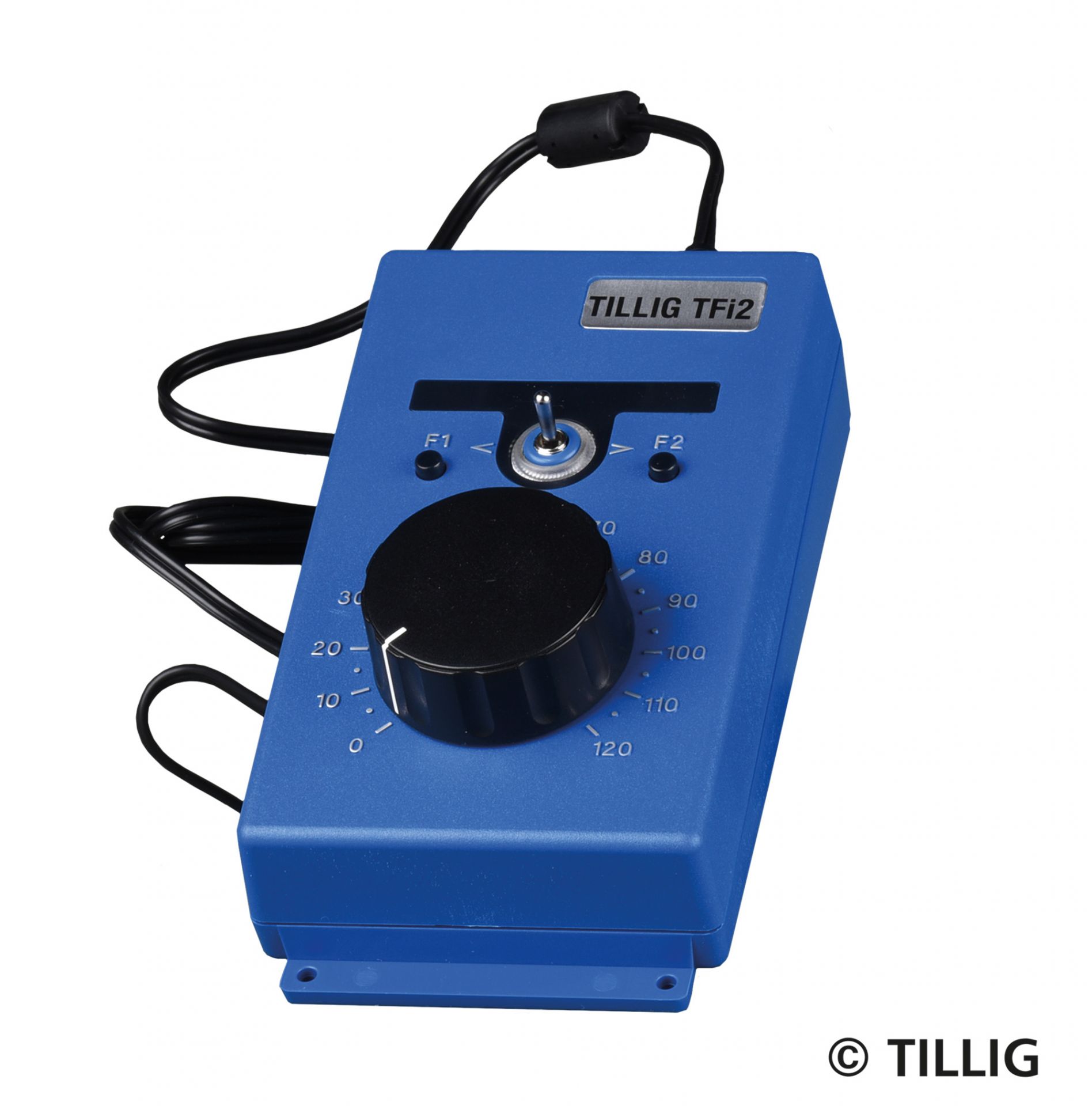 With automatic shuttle train control
• For all 12 V DC-models
• Compatible with bell-armature motors
• Practically constant operating voltage as a clean, noise-free square wave
• Output current approx. 1 A
• Automatic cut-out in case of short-circuit or overload
• Power supply via mains power adapter (supplied)
• Housing suitable for side-by-side mounting, Demensions approx. 138 x 80 x 40 mm
Same properties and functions as digital systems:
• Excellent running caracteristics over the whole speed range
• Extremely slow running speeds possible
• Linear speed increase over the whole control range,
alternatively, 4 different non-linear control curves can be selected
• Automatic deceleration to stand still and restarting with braking/starting delay

Pulse width control of a new dimension:
• Practically constant LED illumination in the models, even when travelling slowly
• Correct motor-coach lighting for the chosen running direction, despite the pulsed voltage

Convenient operation:
• Wide range of adjustment for speed control at the rotary knob (270°)
• Output display as an LED ring strip corresponding to the controller position
• Toggle switch for running direction changes
• Running direction indicated by colour-coding of the display

With automated shuttle train control
• Shuttle train automatic control without an additional relay circuit (with rail contacts with diode circuit –Printed circuit board product no. 08401/Switching tracks 83158/83758)
• Any number of stops in the shuttle train mode
• Automatic activation of the preset braking and acceleration time as well as the stopping time
• The automatic control can be switched off

Nominal size H0, scale 1:87, gauge 16,5 mm

Nominal size H0m, scale 1:87, gauge 12 mm

Nominal size H0e, scale 1:87, gauge 9 mm

Nominal size TT, scale 1:120, gauge 12 mm

not suited for children under 14 years

565g product weight including packaging

When this product comes to the end of its useful life, you may not dispose of it in the ordinary domestic waste but must take it to your local collection point for recycling electrical and electronic equipment. If you dont`t know the location of your nearest disposal centre please ask your retailer or the local council office.