TILLIG Modellbahnen GmbH
Promenade 1
01855 Sebnitz
Tel.: +49 (0) 3 59 71/903-0
Fax: +49 (0) 3 59 71/903-19
E-Mail: info@tillig.com
01751
« back to searchresults
Art-Nr. 01751 | Passenger coach set DRG -sold out-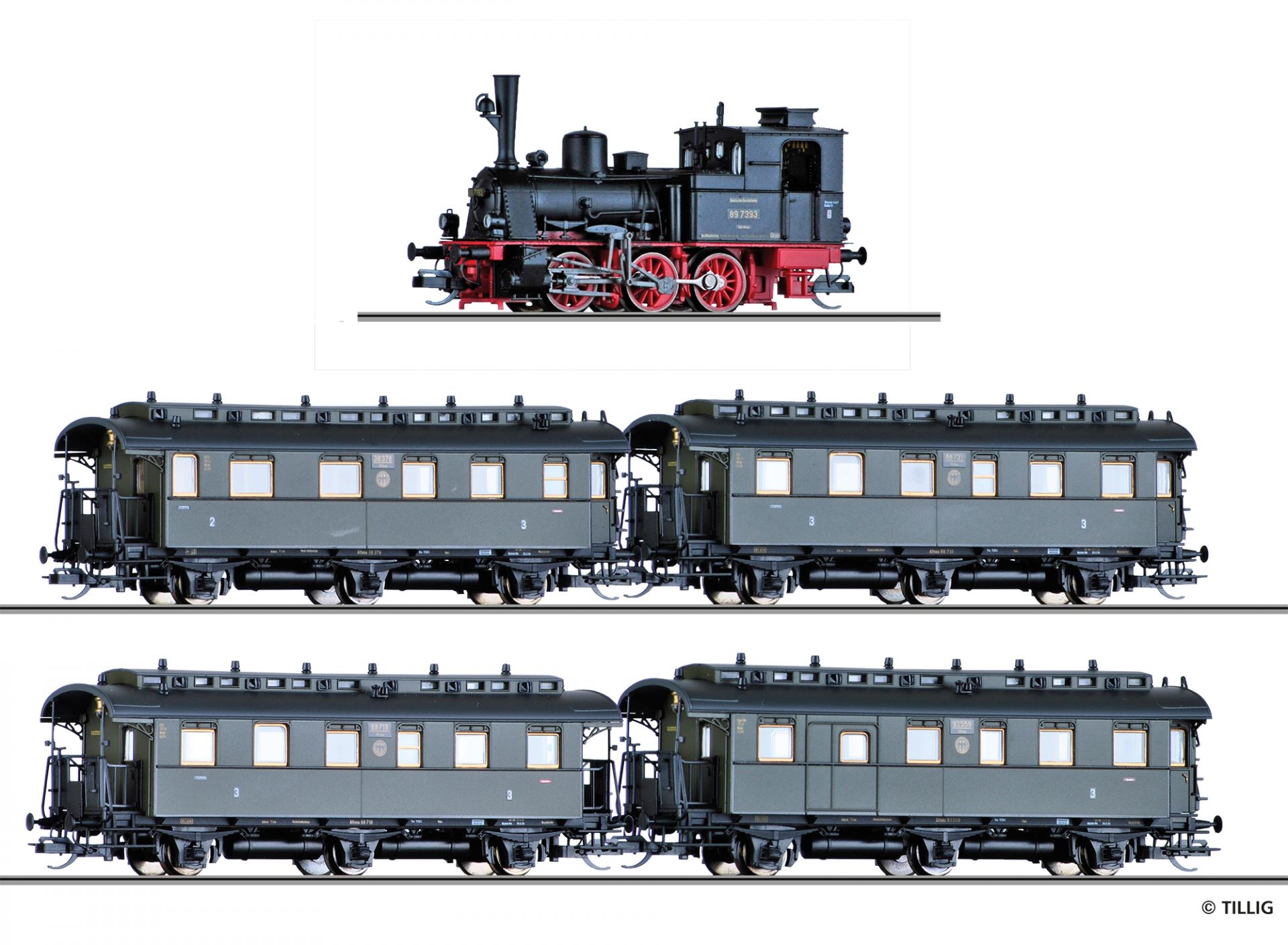 Passenger coach set of the DRG with steam locomotive class 89.70 and four passenger coaches (1x BCi, 2x Ci, 1x CPwi)
- interior lghting: 08857
New item 2017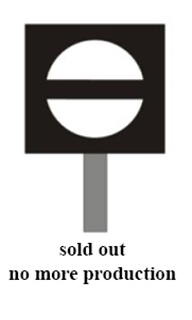 Equipment of the locomotive:
- Multiprotocol decoder onboard DCC and Motorola (similar performance features / parameters to PluX12 66024)
- analogue and digital operation possible
- Headlights that change with the direction of travel, two or three lights depending on the design
- SUSI interface (solder points) for sound module as retrofit
- Electronically set top speed, also applies to analogue operation
- The shunting speed can be switched on and off in the digital mode to further reduce the speed of travel
- Start-up delay and brake deceleration can be switched off in digital mode
- Short coupling on both vehicles with standard mount for coupling head
- No traction tyres to ensure better power uptake across all three wheel sets
- Model is largely made of die-cast zinc.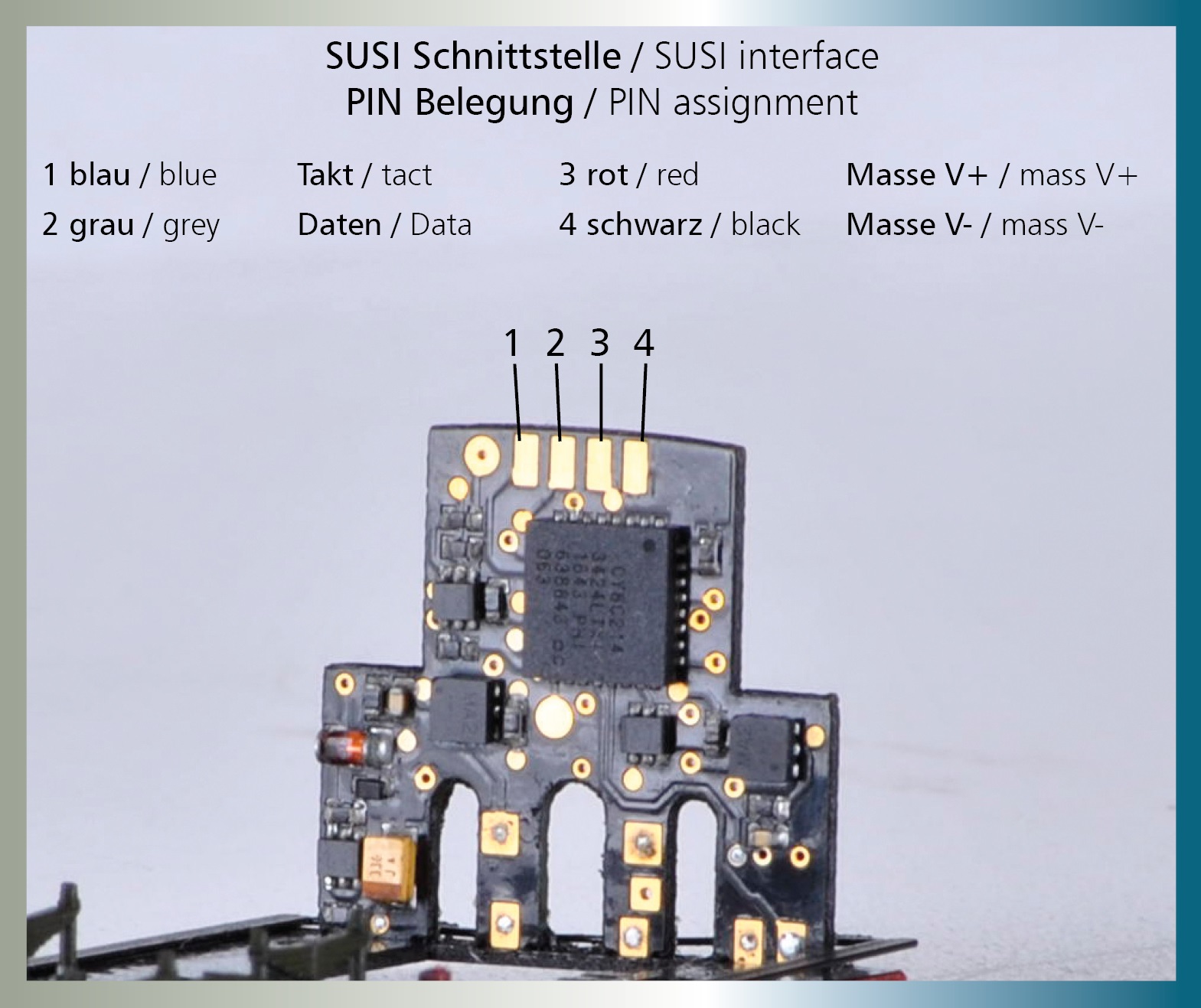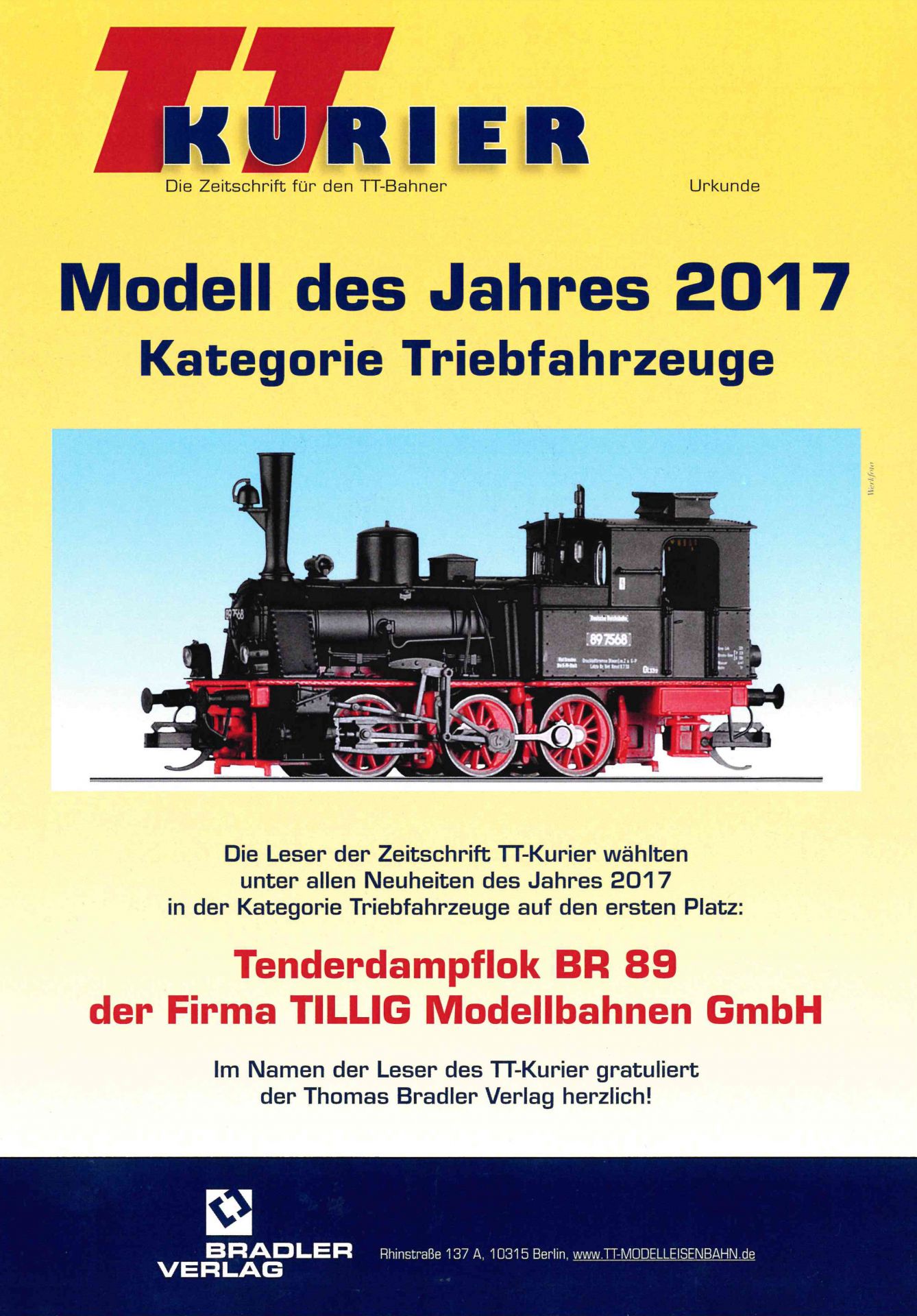 From the foundation of the German State Railway till the end of the 2nd World War (1920 - 1945)
Takeover of the German railways by the German Reich. Colourful appearance of locomotives and carriages. Extension of electric train operations and further development of rail cars. Standardisation of the building and operating regulations, as well as the vehicle paintwork and markings. Diversity of the fleet of rolling stock through addition of Epoch I vehicles

2-front-light, dependet on the direction of traffic

Interior lighting possible to refit

Equipped with interior decoration

Coupling pick-up (NEM 358) and close coupling kinematics (NEM 358

Nominal size TT, scale 1:120, gauge 12 mm

Decoder on board
not suited for children under 14 years

Length from buffer to buffer: 506 mm

900g product weight including packaging

When this product comes to the end of its useful life, you may not dispose of it in the ordinary domestic waste but must take it to your local collection point for recycling electrical and electronic equipment. If you dont`t know the location of your nearest disposal centre please ask your retailer or the local council office.