TILLIG Modellbahnen GmbH
Promenade 1
01855 Sebnitz
Tel.: +49 (0) 3 59 71/903-0
Fax: +49 (0) 3 59 71/903-19
E-Mail: info@tillig.com
01213
« back to searchresults
Art-Nr. 01213 | Digital-Beginner set DB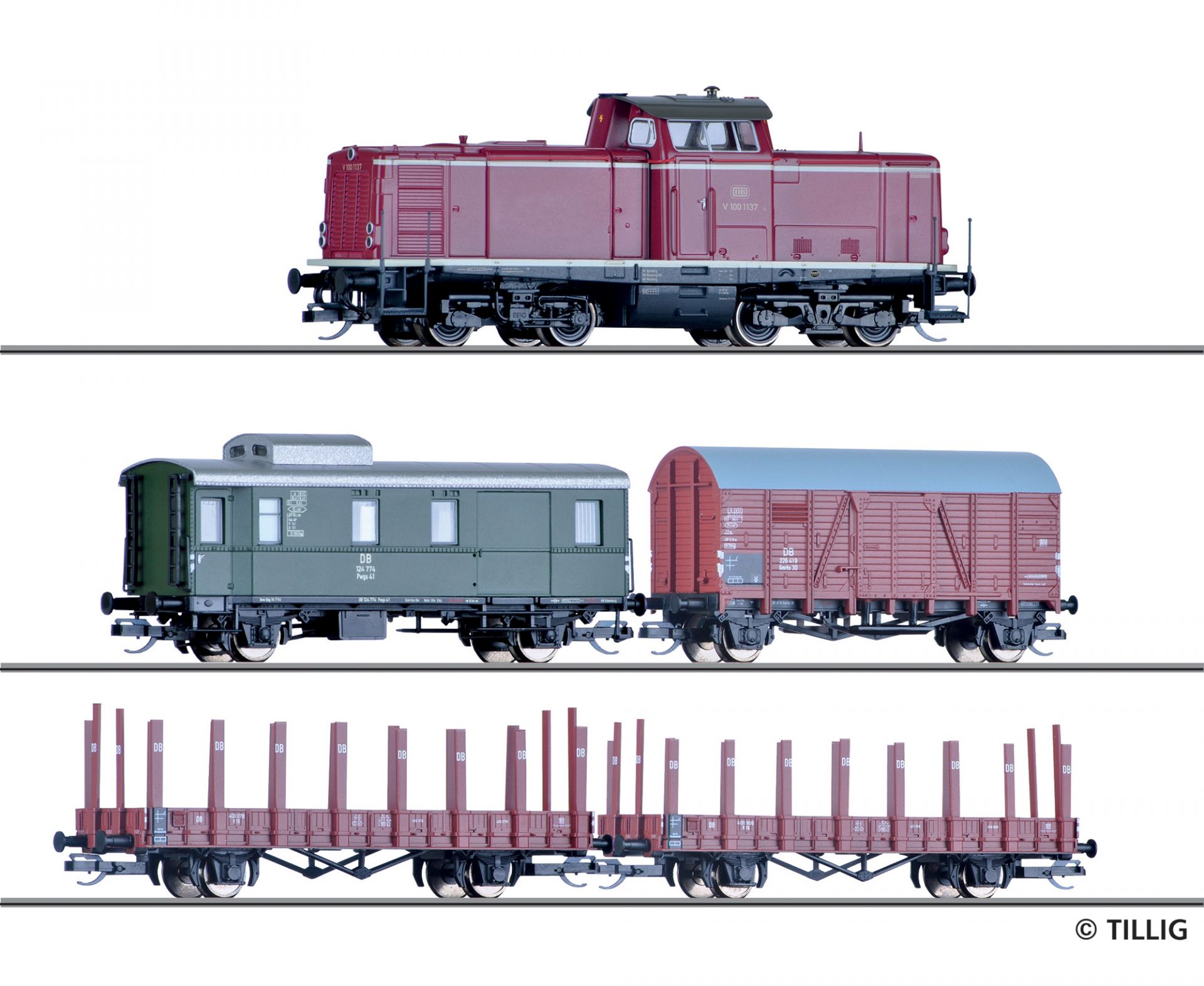 Digital-Beginner set of the DB
Content: Diesel locomotive class V 100.10 with digital decoder and four different cars
digital asseccoires in cooperation with Uhlenbrock Elektronik GmbH: command station, manual control, AC adapter
Advanced-track-oval with siding (70 x 100 cm), electric operation gear
road vehicle, rerailer, manual uncoupler
New item 2021

From the end of the 2nd World War till 1970
Construction and modernisation of the railways in the Federal Republic of Germany and the German Democratic Republic independently from one another. Phase of structural change through the expansion of the diesel and electric train operations and gradual decrease in the number of steam trains running. Development of a modern fleet of rolling and new safety technology.

3-front-light on the frontside/2-front-light on the backside, dependet on the direction of traffic

Coupling pick-up (NEM 358) and close coupling kinematics (NEM 358

Electrical interface (NEM 651) with plug

Nominal size TT, scale 1:120, gauge 12 mm
not suited for children under 14 years

Length from buffer to buffer: 469 mm

2000g product weight including packaging

When this product comes to the end of its useful life, you may not dispose of it in the ordinary domestic waste but must take it to your local collection point for recycling electrical and electronic equipment. If you dont`t know the location of your nearest disposal centre please ask your retailer or the local council office.