Special exhibition
TILLIG Modellbahnen GmbH
Promenade 1
01855 Sebnitz
Tel.: +49 (0) 3 59 71/903-0
Fax: +49 (0) 3 59 71/903-19
E-Mail: info@tillig.com
Special exhibition
Special exhibition
At irregular intervals we offer visitors to our museum special exhibitions on various topics. Since its reopening in May 2011 you have already been able to visit additional exhibitions on the following topics:
"TT gauge in the Czech Republic" (november 2011 until march 2013)
"The history of the Auhagen company" (april 2013 until march 2014)
"The track ranges of the TILLIG company" (april 2014 until august 2015)
"Ship and railway" exhibition (september 2015 until february 2017)
"Harzer Narrow gauge railways" (march 2017 until december 2018)
"25 Years TILLIG Modellbahnen" (january 2019 until june 2020)
"TILLIG fair stand" (july 2020 until august 2021)
"History of the Sebnitztalbahn" (since september 2021)
Now that our last special exhibition "TILLIG exhibition stand" has ended, we are pleased to present you our new exhibition on the topic of "History of the Sebnitztalbahn":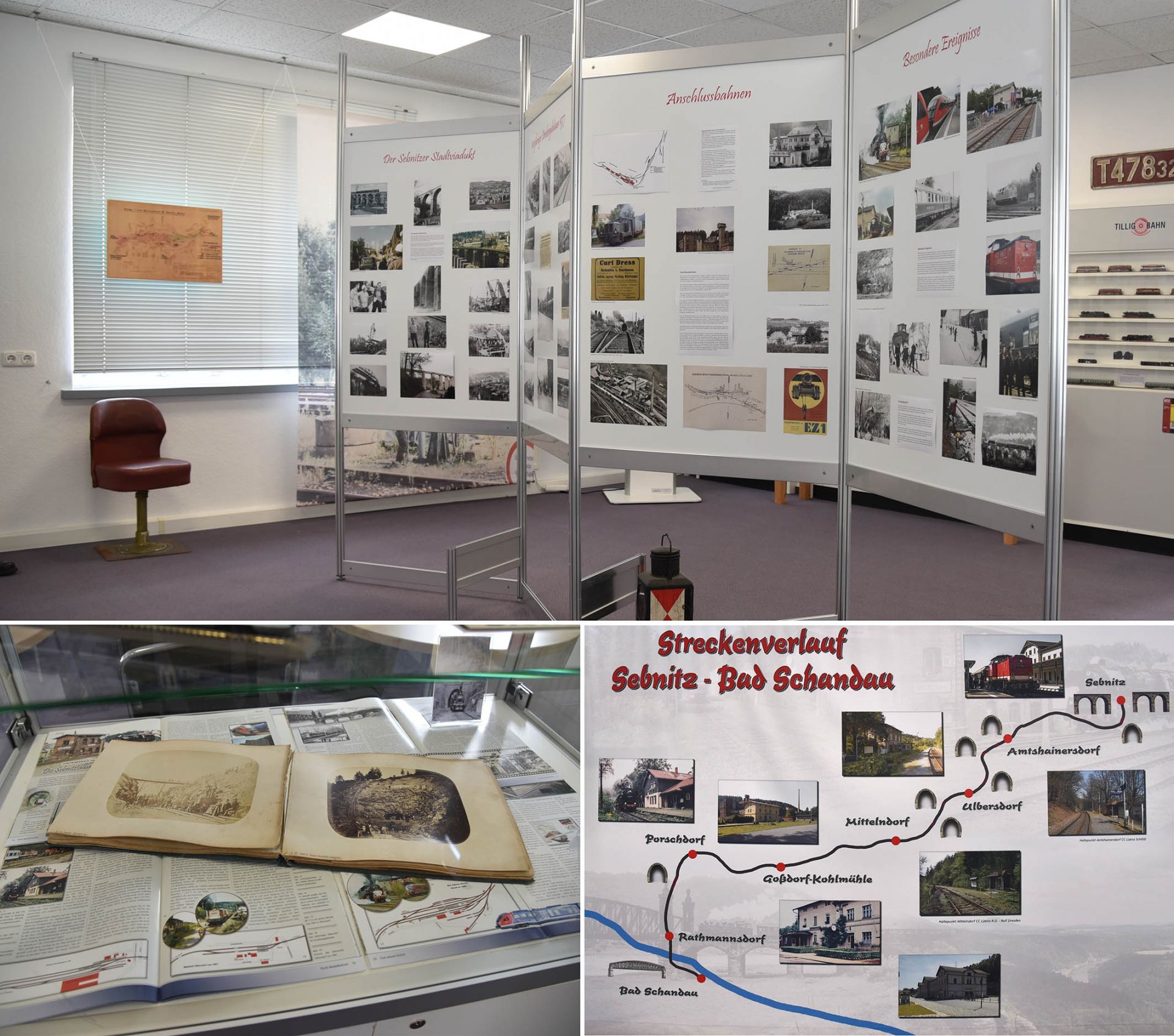 For most model railroaders, Saxon Switzerland is associated with the artificial flower and model railroad town of Sebnitz. The arrival and departure is usually by car, Sebnitz can be reached quickly from the autobahn. But as a rule, hardly any attention is paid to the beauty of the landscape. And thus not for one of the most beautiful railway lines in Germany, which has started in Bad Schandau for more than 140 years, leads to Sebnitz in Saxony and is now part of the National Park Railway.
That is why we would like to dedicate our current special exhibition to this route. You can find out more about the eventful history of the route here, numerous documents and highly interesting photos are sure to inspire you. You will also find detailed information on the use of rail vehicles, which we have reproduced using TILLIG models. This and much more is waiting for you in our current special exhibition.

We look forward to your visit with us in Sebnitz!