Special exhibition
TILLIG Modellbahnen GmbH
Promenade 1
01855 Sebnitz
Tel.: +49 (0) 3 59 71/903-0
Fax: +49 (0) 3 59 71/903-19
E-Mail: info@tillig.com
Special exhibition
Special exhibition
At irregular intervals we offer visitors to our museum special exhibitions on various topics. Since its reopening in May 2011 you have already been able to visit additional exhibitions on the following topics:
"TT gauge in the Czech Republic" (november 2011 until march 2013)
"The history of the Auhagen company" (april 2013 until march 2014)
"The track ranges of the TILLIG company" (april 2014 until august 2015)
"Ship and railway" exhibition (september 2015 until february 2017)
"Harzer Narrow gauge railways" (march 2017 until december 2018)
"25 Years TILLIG Modellbahnen" (since january 2019)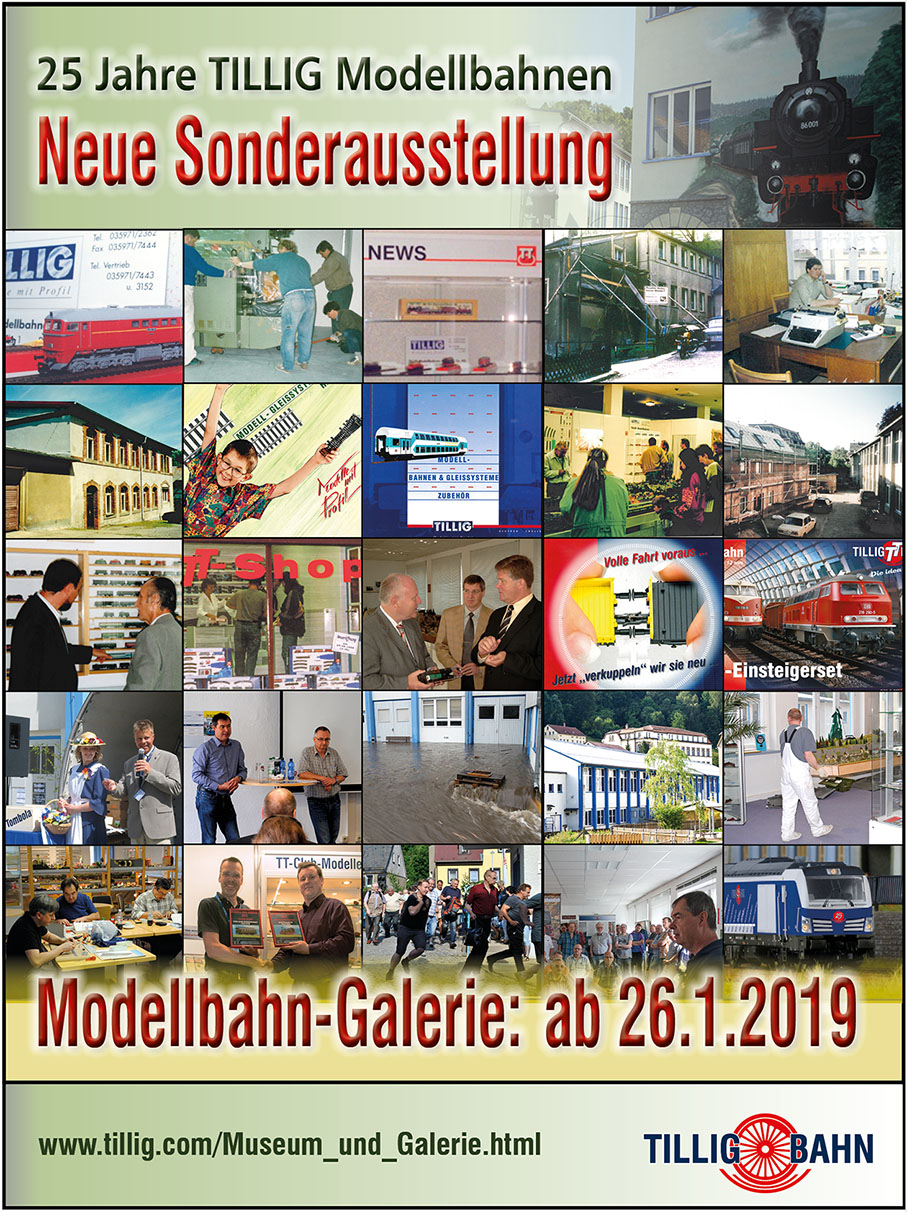 Now that our last special exhibition "Harzer Narrow Gauge Railways" has been completed, we are pleased to present you our exhibition on the subject of "25 Years TILLIG Modellbahnen":
This year, TILLIG Modellbahnen is celebrating its 25th anniversary. Of course, in this jubilee year so many memories of the company history will be made alive again. For example, with the new special exhibition "25 years of TILLIG" in the company's Museum der Modellbahn-Galerie, which will be opened on 26 January 2019 in a festive atmosphere among invited guests, museum visitors will be able to enjoy highly interesting exhibits, photos and time documents from the Company history offered, such as the following events:
• Takeover of the "Berliner TT-Bahnen" and relocation in 1993/94 from Berlin
• Modernization of the company in 1998
• Milestones in TILLIG product development incl. Development of the track systems
• History of Museum / Gallery and TILLIG TT Club
• special events, e.g. the 2010 flood
• Development of advertising with previously unpublished designs
The special exhibition in the TILLIG Model Railway Museum will be open until the end of the year, and the next important event in connection with the anniversary is already waiting: the big open house on June 15, 2019, which will be held in Sebnitz and the ITL / Captrain Pirna is celebrated. More information for all friends of the small and large train you get here.
We look forward to your visit with us in Sebnitz!