Track bedding
TILLIG Modellbahnen GmbH
Promenade 1
01855 Sebnitz
Tel.: +49 (0) 3 59 71/903-0
Fax: +49 (0) 3 59 71/903-19
E-Mail: info@tillig.com
Track bedding
Track bedding
Practical tips on the laying of track bedding
Reproduction of the original ballast is an important aspect when designing a true-to-life layout. TILLIG Styrostone®-Track bedding is especially convenient in this respect. The track bedding can be supplied in two different colours: brown for use along older track sections, and light-grey for newly built lines. Both variants are the result of careful manual production using only high-quality natural and synthetic materials. The core of the track bedding is composed of extruded hard-foamed polystyrene. This material is absolutely rot-proof, UV-resistant and flame-resistant. The ballast layer comprises an elastic rubber cork foil, to which the true-to-scale stone ballast is adhered. As the sleepers of the tracks are wider at the bottom than at the top, you should use a hair dryer or the like to warm the stone ballast to approx. 50 °C before pressing in the track. The same applies when removing the track from the bedding. When the stone ballast layer cools, the track is seated so firmly in the bedding that additional fixing with nails is no longer necessary.
For fixing on the layout base, we recommend the use of STYROPAL contact adhesive (product no.: 86401).
The track bedding is specially prepared to permit embankments to be recreated – either on both sides for a single-track line, or on one side for lines with two tracks.
To this end, the pre-cut polystyrene wedge is trimmed and the stone surface is glued to the side of the track bed.



At points branches, the track bedding needs to be cut to shape. To do so, one strip is laid along the already mounted points, and a second over the top for the branch. The overlap can then be trimmed off using a sharp craft knife. The join between the two sections can be covered with ballast of the appropriate colour.
Before laying track bedding, you should always mark out the course of the tracks on the layout base. The track elements should be pressed into the track bedding before the latter is glued down. Apply an even coating of STYROPAL contact adhesive to the layout base and the track bedding. Several sections can be prepared at once, as the adhesive does not bond until it has dried. Once the coated surfaces have dried, the track can be joined together and pressed down section by section.
The track bedding for flexi-track must be bent to the desired curves before finally being pressed into place. To prevent premature sticking of the whole track bedding, it is recommended to lay sheets of paper between the adhesive-coated bedding and the layout base. This paper can then be removed piece by piece to allow the track bedding to be pressed down and fixed.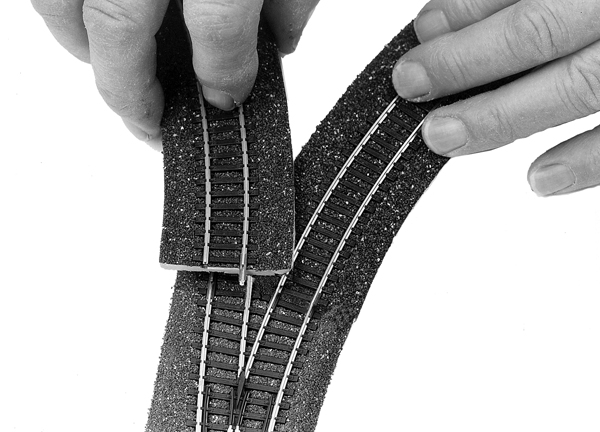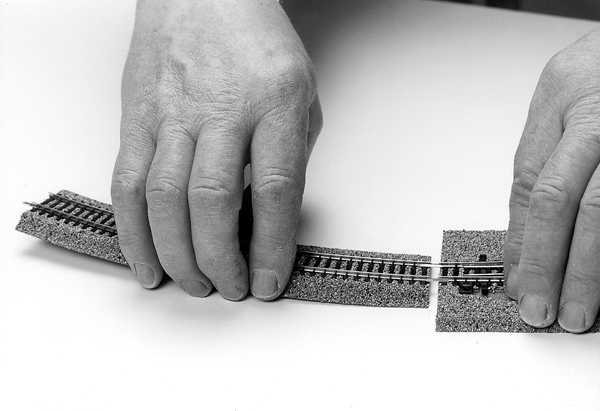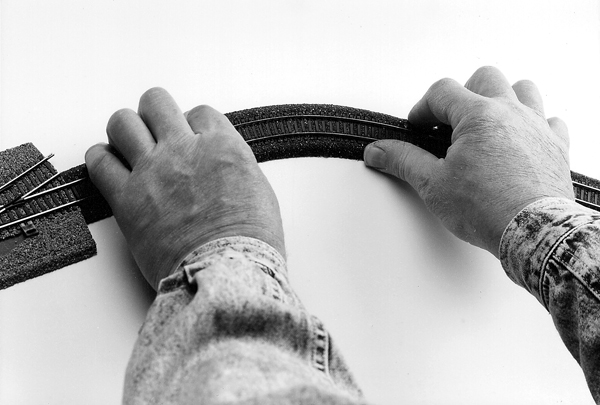 You find a presentation for the processing of the STYROSTONE bellast at the example of the contstruction of a TT diorama here.