Unique editions
TILLIG Modellbahnen GmbH
Promenade 1
01855 Sebnitz
Tel.: +49 (0) 3 59 71/903-0
Fax: +49 (0) 3 59 71/903-19
E-Mail: info@tillig.com
Unique editions
Unique editions
All the following models are unique editions, last date of order: march 31st 2021.
Here is an overview of the TT, H0 and narrow gauge unique editions for 2021.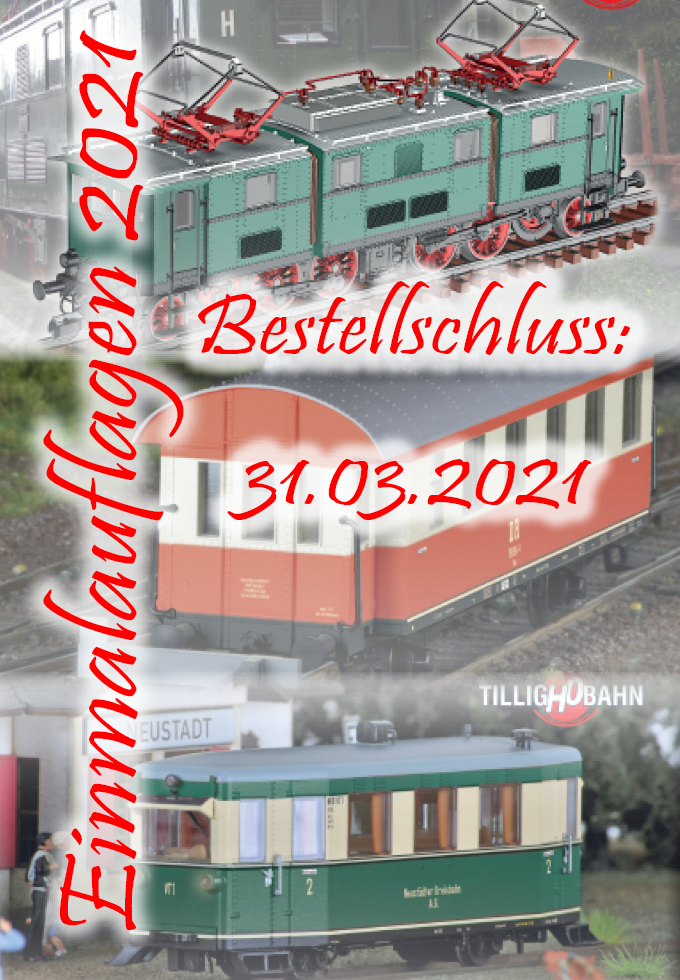 The deadline for ordering the unique editions in 2021 has expired.
We thank you for the numerous orders.
The following items will not be produced due to insufficient pre-order numbers and will unfortunately have to be omitted without replacement.
Gauge TT:
02033 Steam locomotive class 675 of the FS, Ep. II
02186 Steam locomotive 86 501 of the ÖGEG, Ep. V
04472 Electric locomotive Re 474 of the DB Cargo Italia S.r.l., Ep. VI
04645 Diesel locomotive class 236 of the FS, Ep. III
04973 Electric locomotive 183 717-8 of the Steiermarkbahn, Ep. VI
13306 Passenger coach B4y of the USTC, Ep. III
502128 Electric locomotive 142 118-9 of the Eisenbahn Gesellschaft Potsdam mbH (EGP), Ep. VI
As every year, we have planned an additional reserve quantity for all unique editions in 2021 that have been confirmed for production. This has turned out to be "slightly higher" for the 2021 unique editions, so that those who decide late have the opportunity to order these one-off editions from specialist retailers.
(Status: april 07th, 2021)