Registration
TILLIG Modellbahnen GmbH
Promenade 1
01855 Sebnitz
Tel.: +49 (0) 3 59 71/903-0
Fax: +49 (0) 3 59 71/903-19
E-Mail: info@tillig.com
Registration
Registration for a workshop
We can offer the workshops for the second half-year 2019 with the following workshop themes:

- Whethering with Airbrush
- Track construction with TT model advanced track
- Ballast with STYROSTONE
Then simply sign up for a workshop. You can simply download the registration forms, fill them in and send them to us. Or use the online registration option below.
Digital technology for advanced users

Friday may 17th, 2019

Track construction with TT model advanced track

Friday september 13th, 2019

Whethering with Airbrush

Thursday september 26th, 2019 -sold out-

Whethering with Airbrush

Friday september 27th, 2019 -sold out-

Ballast with STYROSTONE

Friday november 11th, 2019
We have a special collector's model on offer for all people attending our workshop which is only sold at the workshop events.
A TT tank car with attractive TILLIG printing: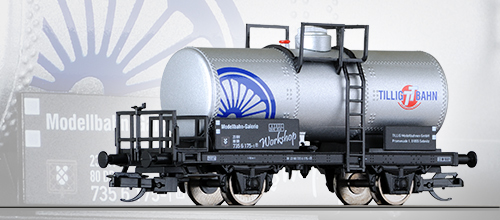 You can order this car from your registration immediately.