Registration
TILLIG Modellbahnen GmbH
Promenade 1
01855 Sebnitz
Tel.: +49 (0) 3 59 71/903-0
Fax: +49 (0) 3 59 71/903-19
E-Mail: info@tillig.com
Registration
Registration for a workshop
We can offer the workshops for the second half-year 2023 with the following workshop themes:

- Digital for Beginner
- Digital for advanced
- Track construction

Then simply sign up for a workshop. You can simply download the registration forms, fill them in and send them to us. Or use the online registration option below.
Digital for Beginner

Friday october 13th, 2023

Digital for advanced

Friday october 20th, 2023

-sold out-

Track construction

Friday october 27th, 2023

Digital for advanced

Friday november 10th, 2023

-sold out-
By participating in our workshops, you accept the following terms and conditions (as of november 30th.2014):

Participation requires the proper completion and signing of the registration form as well as the full receipt of workshop fees on our business accounts. By registering, the participant agrees to pay the fees set for the workshop. The workshop fee is due after registration. The participant receives from us a separate payment information. If we have a direct debit authorization, payment will be made by SEPA direct debit. Registration can be canceled by the participant free of charge until 21 days before the beginning of the course. Our workshops take place from a minimum of 6 participants. If this minimum number of participants is not reached, the workshop can be postponed or canceled. Already paid fees will be refunded. The workshop seats are limited. A claim to participation can not be guaranteed for this reason. If we do not have any free workshop space after receiving your application, you will receive information immediately.
We have a special collector's model on offer for all people attending our workshop which is only sold at the workshop events.
A TT tank car with attractive TILLIG printing: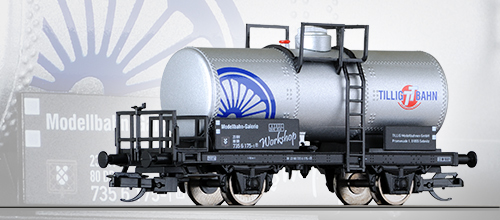 You can order this car from your registration immediately.
Please fill out all fields marked with *!
Please also observe the general terms and conditions.
Please also observe the privacy policy.