News/Events
TILLIG Modellbahnen GmbH
Promenade 1
01855 Sebnitz
Tel.: +49 (0) 3 59 71/903-0
Fax: +49 (0) 3 59 71/903-19
E-Mail: info@tillig.com
28.09. Modell-Hobby-Spiel in Leipzig september/october 2023
Dear TILLIG friends,
from friday till sunday (29th september to 1. october 2023) TILLIG will take place "Modell-Hobby-Spiel" in Leipzig.
We look forward to your visit at our TILLIG stand in Hall 3 (K30/J31). Numerous highlights await you, including:
- Presentation of current innovations and autumn innovations 2022/2023
- Working status of our new molds (e.g. hand samples)
- Sale of the new TT catalog 2023/2024
- Trade fair offers and special items in the nominal sizes TT and H0 / narrow gauge
- Advice on all questions about the TILLIG-TT-Club
- Offers of TT Club models
- Special models from the model railway gallery
For the first time at the trade fair in Leipzig, we are offering you our exclusive new TT trade fair car. You can only purchase this TT exhibition car at the trade fairs visited by TILLIG (this car is not available from specialist retailers); You can find an overview here.
This TT exhibition car cannot be pre-ordered or reserved before the exhibition in Leipzig.
TT-Trade fair wagon 2023:

Low side car Res of the DR, Epoc IV with load Fair price: 39,00€)
We will also be represented - also in Hall 3 - with our own exhibition stand of the model railway gallery (stand at the MTTB). We will offer you the following here:
- Special offers and interesting remaining items from the TILLIG range
- Information about our model railway museum
- Special models from the model railway gallery at fair prices
Attention autograph session:
Exclusively we could win two famous stars from the model railway radio play "The Luke Wild Diaries - The Secret of Sorgemoos" for 2 autograph sessions for you.
Santiago Ziesmer and Martin Bolik will be on site at our TILLIG stand on Friday 29.09.2023.
You can find more information about the dates here.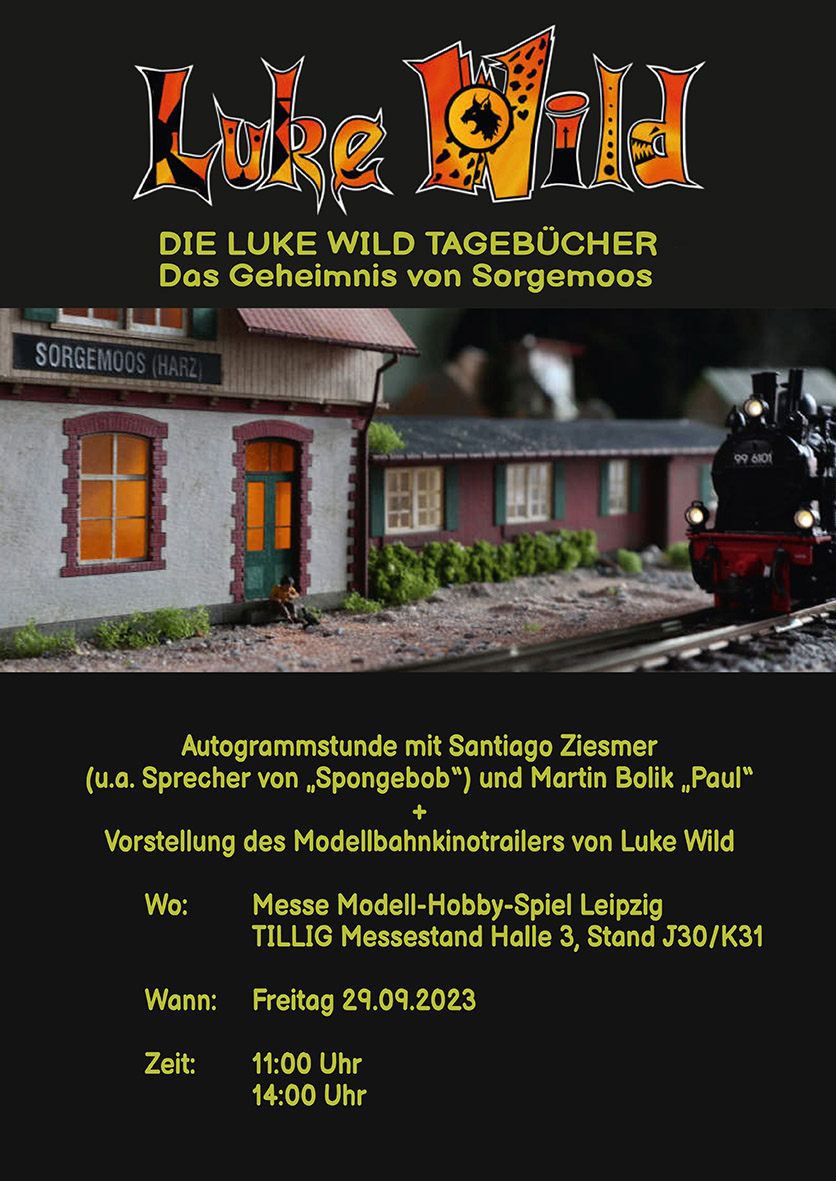 We look forward to welcoming you to our stand at this year's "modell-hobby-spiel" trade fair.
Your team from TILLIG Modellbahnen